The address for all your mediterranean trees and plants
The Olive Tree Specialist is your partner in delivering your olive tree, fig tree, palm tree, or other types of mediterranean plants. The Olive Tree Specialist is located in the picturesque town of Overloon, located in North-Brabant, in the south of the Netherlands.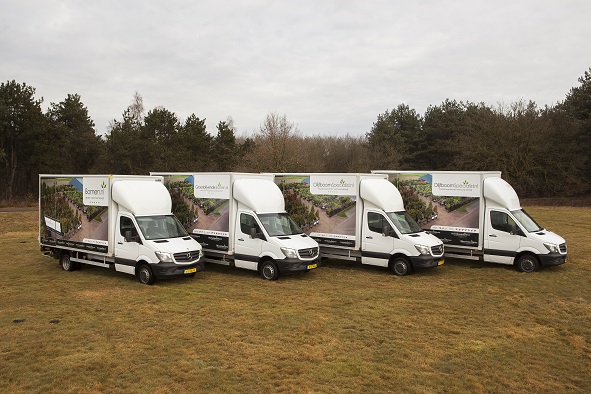 Have a look at our location in Overloon
Watch the movie about our wonderful olive trees and mediterranean trees in Overloon.
Service
From our location in the Netherlands we serve private and business customers throughout Europe. Through direct purchase from our own plantations in northern Spain we can offer a wide range of Mediterranean trees. The Olive Tree Specialist (the name says it all) has excellent product knowledge, because of this we are able to find the proper mediterranean tree and/or create the proper garden ambience for each costumer.
For designing your showroom, catering establishment or company garden, the Olive Tree Specialist is your partner in stylish design as well! We can provide professional guidance during large projects for government agencies. Also, we have special service contracts to take some of the work off your hands.
It is our job to make your wish come true. Service is therefore a high priority with the Olive Tree Specialist. We offer all this at a very competitive price.
Whether it be a single mediterranean tree in a planter, or a complete Mediterranean-style garden, the Olive Tree Specialist always has the right solution for you.
Your mediterranean dream garden, our passion.
Watch this video how to plant a Mediterranean tree
If you have any questions, contact us
Please feel free to contact us if you would like some more information about our products and services. You can reach us at the phone numbers and email addresses listed below.
Sales: info@olivetreespecialist.co.ukService: service@olivetreespecialist.co.uk
Opening hours & contactinformation:
Address:

De oude molen 10 (office)

nr. 12 + 3B (stock)

Opening hours

Monday:

09.00 - 17.00

5825KA Overloon,

the Netherlands

Tuesday:
09.00 - 17.00
Tel.:
0031 478 642013
Wednesday:
09.00 - 17.00
Thursday:
09.00 - 17.00
Friday:

09.00 - 17.00

Saturday:

Sunday:

10.00 - 16.00

closed
Olive Tree Specialist is part of BotanicalGroup BV 'The specialists in exclusive green'